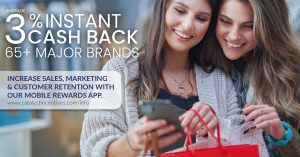 Catalyst Marketing Solutions (Catalyst), a Florida-based marketing agency that offers an instant cash back rewards program through a partnership with a leading mobile payments app has announced the launch of the program for the Canadian market.
The Shopping App, which is not available to the public is used by companies to offer incentives and rewards to customers and employees which helps to improve sales, marketing and retention. Each user of the app in the United States saves an average of 5% instant cash back on every purchase, every time IN-STORE as well as online with more than 300+ major retailers, restaurants, entertainment and travel providers.
The new Canadian version of the program launches with an average of 3% instant cash back at more than 65+ merchants with more being added regularly as Canadian retailers continue to adopt e-gift card currency.
Using powerful mobile wallet technology, customers and employees can save hundreds of dollars per year on everyday lifestyle purchases and experiences, courtesy of the participating company.
For many of the companies that implement this loyalty rewards program, the savings can help customers offset their product or service costs, ongoing fees associated with subscriptions and memberships, or simply give them more incentive to transact more frequently; driving revenue and loyalty.
Clients that work with Catalyst also receive invaluable insights into their customer's spending behavior with detailed analytics and reporting. Some of the data available includes understanding who has and has not activated and transacted with their Shopping App account, including how many transactions, showing top performing customers. Additionally, companies can see how much customers have spent on the platform and how much cash back they have earned, showing the true monetary value of the incentive program to its customers.
The analytics will also show the most popular merchants that their customers transact with, determining how much is spent on retail, dining, entertainment or travel. This provides insights into what their customers enjoy, which will help with future marketing campaigns, personalized experiences and special offers.
For more information about the Shopping App program, download the brochure at https://catalystincentives.com/info
About Catalyst Marketing Solutions
Catalyst is a marketing agency that offers innovative incentives and loyalty programs to increase sales and improve marketing and customer retention. For more information visit https://catalystincentives.com