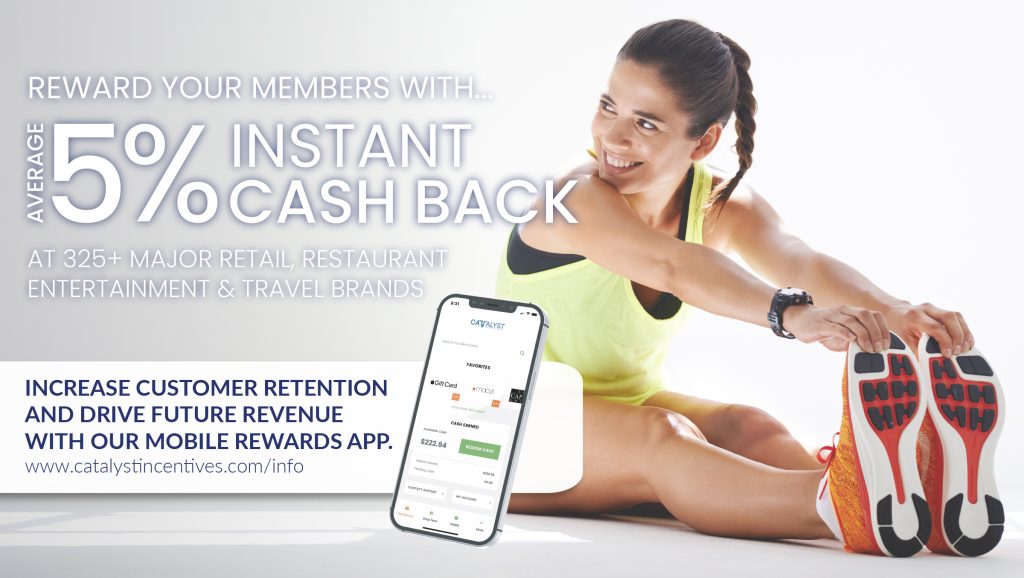 Retaining health club members is a perennial challenge for fitness centers around the world.
Every year, a significant number of members cancel their memberships for various reasons, including financial constraints or a perceived lack of value. However, with the innovative mobile-app loyalty program offered by Catalyst (https://catalystincentives.com/healthclubs), health clubs now have a powerful tool to increase member retention.
The Challenge of Member Retention
Health clubs have long grappled with member retention. According to industry data, it's estimated that 20-25% of gym-goers cancel their memberships each year, and this number can increase significantly during economic downturns or global crises. The reasons behind cancellations vary, but one common thread is the need to perceive or realize value for the membership dues paid.
To assist with combatting the value proposition issue, Catalyst offers a loyalty / incentive based program that gives gym members up to 5% instant cash back on everyday items at over 325+ branded stores, including popular fitness names like Adidas, aerie, Athelta, Callaway, Champs Sports, Columbia Sportswear, Dick's Sporting Goods, Famous Footwear, Fanatics, lululemon, Nike, Top Golf, Under Armour and more.
By implementing this program, health clubs can not only keep their members engaged but also reduce attrition rates by over 10% by helping them offset their membership dues; adding millions of dollars to the bottom line.
How It Works:
Cashback Rewards: When health club members shop at participating stores, they receive instant cash back that goes directly into their Shopping App account.
Reinvestment: Members have the option to use this cash back at any other store in the app, or transfer the cash back to the gym to pay for their membership dues, fitness classes or personal training sessions.
Unlimited Value: The best part is that there's no limit on how much cash back can be accrued, which means that members have the potential for unlimited savings.
The implementation of Catalyst's loyalty / incentive program can significantly reduce the annual churn rate of health club members.
The Impact on Member Retention:
Enhanced Value: By offering tangible financial benefits, health clubs provide members with a compelling reason to continue their memberships.
Engagement: The program encourages ongoing engagement as members strive to maximize their cash back earnings by shopping at partner stores.
Flexibility: Members can use their cash back for various fitness-related purposes, ensuring that they get real value from their savings.
Economic Incentive: During tough economic times, the cash back earned from routine shopping can be a lifeline for members, making it even less likely for them to cancel their memberships.
The Bottom Line:
Catalyst is revolutionizing health club member retention with its unique approach to rewards. By allowing members to earn cash back on their everyday purchases and then have the option to reinvest that money in the club, they create a win-win situation for both fitness centers and their members. By offering this program, health clubs can reduce their annual membership cancellations by over 10% or even more, ensuring a stable and loyal member base. It's a strategic investment in long-term growth and success for the health and fitness industry.
For more information on the program visit https://catalystincentives.com/healthclubs